Scholarships
We're thrilled to announce the winner of the 2022 Cori Gross Scholarship for the Young Writers Workshop! This year's winner is Ryann B. (pictured below) who attended Week 1 of the program. Ryann says: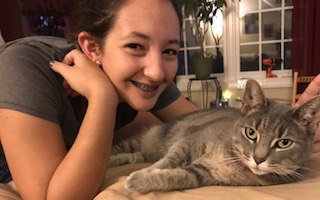 I've learned so much more than I expected going into this camp. One of my main issues as a writer is developing a history for my worlds, and in these classes, I learned not only how to do that, but how to develop the characters themselves, write interest-catching opening lines, and describe the world around me in multiple different forms of writing, including poetry and prose! I had an amazing time at this camp and I'm very thankful to the Cori Gross Scholarship fund for making my stay here possible!
Congratulations Ryann!
The Cori Gross Scholarship covers full cost ($1,200) for one student to attend the GSYWW session of their choice (June 19-24 or June 26-July 1).
This scholarship is made possible by the contributions of the family and many friends and loved ones of Cori Gross, 2011 UNC Asheville alumna and beloved sister, daughter, irreplaceable family member, and friend. Cori passed away unexpectedly in 2020, but her passion and legacy live on.
In the words of Cori's family, "Cori had an unquenchable love of the arts which permeated her life. It seems like she was writing poetry before she could walk. She was a voracious reader, a deep thinker, and she loved dance, music, photography, film & television, and storytelling. Cori loved UNC-A, and her friends and family are thrilled that this scholarship will continue her memory and provide the necessary funds for deserving children and teens to attend a wonderful summer arts camp or learning program. We know that this act would bring Cori joy… and this opportunity to 'pay forward' Cori's beautiful life and generosity gives her family & friends joy."
---
In 2022, the Great Smokies Young Writers Workshop will be offered as one of UNC Asheville's Pre-College Programs. The Pre-College Programs give high school students the opportunity to experience university life through engaging in college-level classes, staying in residence halls on campus, and exploring the surrounding community.
When: June 19-24 and June 26-July 1, 2022. Students can attend one week or stay for  both.
Who's Teaching: We're thrilled to welcome back Jamieson Ridenhour, who will teach both weeks. We're also excited to welcome two incredible members of UNCA's English faculty, Dr. Mildred Barya (teaching June 19-24) and local poet & editor Luke Hankins (substitute teaching for University Fellow Diamond Forde, June 26-July 1).
Who's Eligible: UNCA's Pre-College Programs are open to rising high school sophomores, juniors, and seniors.
What Topics: June 19-24: Jamieson Ridenhour will teach "Worldbuilding 101," and Mildred Barya will teach "Nature-Based Writing." June 26-July 1: Jamieson Ridenhour will teach "Writing Ghosts," and Luke Hankins will teach "Limitless Poetry."
How Much: Tuition for each week of the program is $1,200 and includes lodging, meals, all course materials, activities, and excursions.
If you have any questions about the Great Smokies Young Writers Workshop, please email Lilly Danzis: ldanzis@unca.edu.